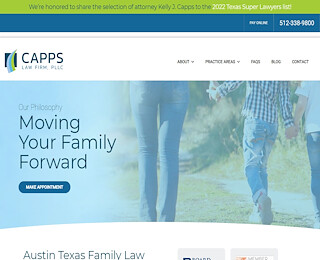 Issues that involve your family are among the most important and emotional you will ever have to deal with. When you are need a prenuptial agreement, are going through a divorce or a custody dispute or other family matter you need guidance from a qualified Austin family attorney. Legal problems can be traumatic and stressful but will be easier when you get help from a compassionate lawyer.
Prenuptial Agreements
Prenuptial agreements aren't just for celebrities or those who are extremely wealthy. They are useful for protecting your assets in a divorce and can help eliminate difficult and lengthy divorce proceedings. Certainly nobody wants to think that their marriage will end in divorce, especially when they are happily planning their wedding. Yet, just like insurance, you need to have protection in place just in case.
A prenuptial agreement outlines the details of how property, money and other assets are to be distributed in a divorce. Generally, assets that are acquired during the marriage are considered marital property and belong to both parties. However, a prenuptial agreement will ensure that your assets are protected in case the marriage ends. It will reduce or eliminate disputes between parties. A prenuptial agreement is a legal contract and should be drafted by an Austin family attorney in order to be sure that it provides the protection you desire.
Divorce and Settlement Agreements
When a couple divorces they need to make important decisions regarding how to distribute their assets and debts and resolve issues that impact the children such as where the children will reside and how visitation and support are to be handled. Some of these decisions can be difficult to make and can cause disagreements. Your Austin family attorney understands the importance of these types of decisions and will assist you so you can make choices that will best resolve the situation.
Some people wonder how the children's issues will be handled after a divorce. A parenting plan is a legal document that provides details for parents on how to handle decisions involving their children. Both parties provide input and must come to an agreement in the terms of the parenting plan. The best plans are those that are as detailed as possible. Parents can then use the document when they have any questions about how to handle issues that arise in the future. Your lawyer will help negotiate a parenting plan that works for you and your family.
Austin Family Attorney
Take some of the stress from difficult family issues with help from a compassionate lawyer. Your attorney is here to answer your questions and guide you through the divorce process from start to finish. There are many situations that you must work through at this time and your lawyer will be there to assist you every step of the way to make things easier and less stressful. The Capps Law Firm offers skilled divorce and family law representation when you need it. Contact our legal team online at AustinDivorceAttorney.org to learn more about our services.  
Capps Law Firm, PLLC
(512) 338-9800
7718 Wood Hollow Dr #205, Austin, TX, 78731
View Larger Map